Meryl Dorey of the heavily discredited Australian Vaccination Skeptics Network will be speaking at the upcoming Healthy Lifestyle Expo in Queensland despite objections from local health authorities. Despite being fully aware that Ms Dorey will disseminate false and misleading medical advice, the event organiser is pushing ahead.
THE state's top health experts have called for the Australian Vaccination Skeptics Network to be barred from disseminating information at the Healthy Lifestyle Expo, arguing their views were dangerous and inaccurate.

…

AMA Queensland president-elect Shaun Rudd said the group should not present information at the Healthy Lifestyle Expo, as their views were "far from healthy''.

"Anti-vaccination has nothing to do with a healthy lifestyle,'' Dr Rudd said. "It promotes the chance of kids getting a serious illness or death.''

The state's Chief Health Officer, Jeannette Young, said she supported moves to limit the ability of the group to communicate inaccurate information about immunisation.

Expo organiser Wayne Pina-Roozemond said while Ms Dorey's views were possibly dangerous, he defended the group's right to put their view at the expo. –The Courier Mail, 13th May 2014
Meryl Dorey has put out a call for someone to debate her at the expo, her request was answered by Peter Bowditch.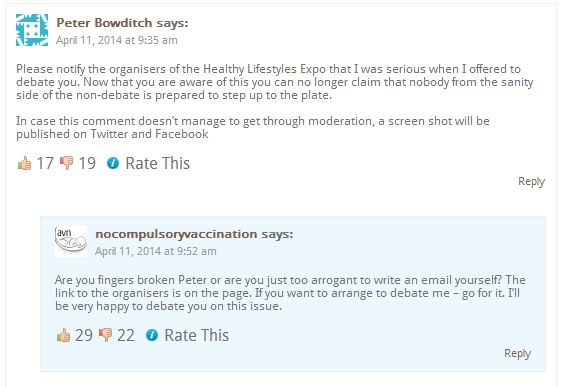 The anti-vaxxers became ecstatic about the offer and before Peter even had time to repond to the offer in full Meryl Dorey went on the attack, because that's how anti-vaxxers make friends. Ms Dorey was upset the Peter still hadn't responded to his formal invitation from the expo organisers after a week, despite the fact that he was still well before the deadline for a required response.
She even paid Facebook to advertise a defamatory article she wrote about him.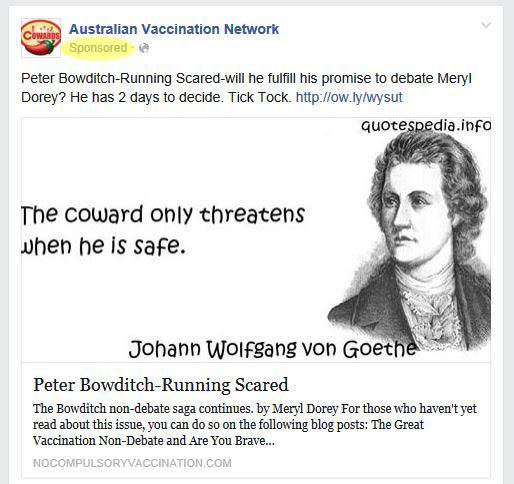 Peter Bowditch did eventually decline to attend the debate which I think is a good move considering the amount of venom spitting from Dorey and her fellow anti-vaxxers. The Australian Vaccination Skeptics Network formerly known as the Australian Vaccination Network has a long history of harassing and threatening people who oppose their views.
Reasonable Hank has documented a few such incidents: Death threats and threats of harm incited by the Australian Vaccination Network
I have personally received an email from one of Meryl Doreys friends in the US. Which asked for the following:
Below are additional sets of questions I have about you, and your activities in the SAVN.

In addition to my first set, comprised of the following:

(1) "a current photo of yourself, your home address, your work address, your employer's name, your immediate supervisor at work's name," I would like a photo of each of your vehicles, including the license plate numbers and a brief description of where you park them both at home and at work.

(2) I want to know who paid your legal fees regarding the AVO.

(3) I want to know where, and when, specifically, SAVN meetings are held, who usually attends them (specific names).

(4) I want to know who funds the SAVN.

(5) I want to know how many members of the SAVN control group are male homosexual? What are their average ages? How many are AIDS infected?

(6) I want to know about your general plan for the SAVN's attack on Meryl Dorey and the AVN. Are you planning more threats of death, violence, rape, mutilation?

(7) What did you mean when you used the word "clients" in a recent message on the misc..health.alternative discussion group.

I'll be back with more.
This email came from a man who has publicly advocated attacking Ms Doreys critics with baseball bats and assault rifles.
So given the current and past hostility aimed at critics I think its wise that Peter not walk into a venue full of Dorey supporters.