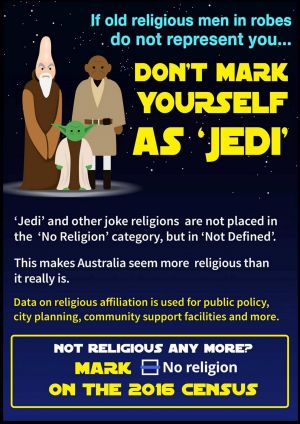 The census is here again and the Atheist Foundation of Australia is running a campaign urging non-religious persons to mark the "No Religion" box rather than identifying as Jedi or Pastafarian. The reason for this is that the Australian Government counts these as religions and records them as "Religion: Other". Therefore the number of non-religious people become under represented in the census.
Since the Australian Government relies upon census data for policy and funding decisions anyone identifying as Jedi or Pastafarian is inadvertently  tipping the statistics in favour of religious interests.
While filling the census with bullshit can be a lot of fun. When powerful religious lobby groups begin to pressure the government (Marriage Equality, Religious Tax Exemption etc), policy makers must rely on the census statistics to try and determine the interest of the population.
So if you don't follow any mythical fairy tale it is important that you mark "No Religion" on August 9th to ensure that you are accurately represented in government policy and decision making.
More information on the Mark No Religion website.