It looks like two of my previous blog posts have upset Ms Scrayen to the point where she is willing to call in the lawyers. Of course nobody likes such harsh criticism of their business practices, especially when they are already surrounded by intense public scrutiny.
Ms Scrayen is so strongly opposed to my opinions and criticisms of her that she even wants me to remove them from my blog.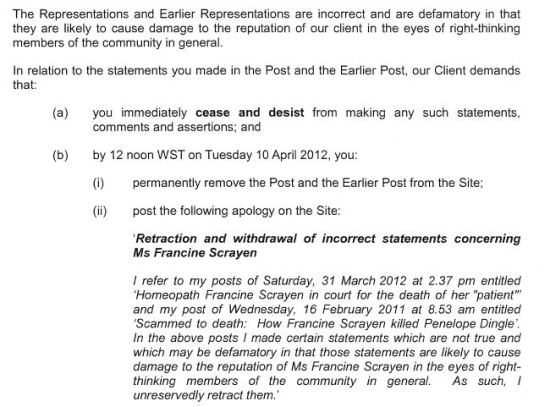 I have no desire to publish inaccuracies and posting such a retraction would be doing just that. My opinions and criticisms of Francine Scrayen are based upon the facts surrounding the death of Penelope Dingle and I am more than willing to defend them in court if need be.
Ms Scrayen may be unhappy with what I've written about her, but I will not be removing it unless it is shown to be false. If Ms Scrayen thinks she can silence my criticism with lawyers then she is in for some disappointment.
I'm sure Ms Scrayen will read this so I'll make this perfectly clear. You cannot silence legitimate criticism with lawyers. If you can prove the Homeopathy works and is effective for treating cancer, as Penelope Dingle was led to believe. Then I will gladly make the necessary corrections to maintain the accuracy of my blog. But if you want to sell unproven medicines to vulnerable cancer patients then you can expect to be justifiably criticised for it; especially if the patient then dies due to your ineffective treatment.
My First post about Francine Scrayen