As readers of this blog will know on Thursday 22nd August I scored a legal victory against Meryl Dorey of the Australian Vaccination Network. Ms Dorey had been seeking an order to have me silenced on the Internet and dragged out the process for nearly a year until I was able to finally have the case dismissed. Ms Dorey was finally ordered to pay $11,187.50 of my legal costs.
Although I received no compensation for the time that I had to spend dealing with this nonsense getting my legal costs recovered was certainly very important because it means Ms Dorey was not able to simply file a vexatious lawsuit and then walk away free of charge.
On the 26th of August the AVN made an announcement on it's Facebook page.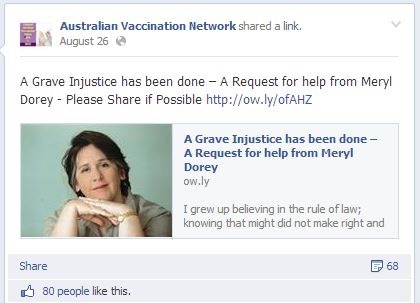 Ms Dorey quickly resorted to her usual tactic of accusing the courts of being bias against her.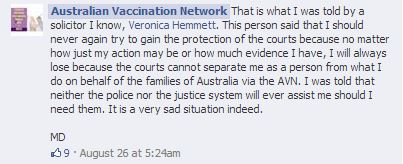 From the beginning, it appeared to me that the magistrate might have already made his decision before we entered the court. The first thing he said to my barrister was that the loser would have to pay costs. It is my understanding that this is not the normal procedure.

The rest of the hearing was no better and though I was able to show that this person had indeed asked people to send me pornography and had posted intimidating mail to me, the magistrate found against me. –Meryl Dorey, 26th August 2013
In court it was revealed that Ms Dorey could not identify the person who had sent her the threatening email, or any other abusive material. However since I am amongst the most vocal critics they decided to focus the effort of their lawsuit on me and even admitted this in court.
Ms Dorey was notified by a magistrate back in November 2012 that she would be liable for my costs if she were to lose. So she can't possibly claim to be surprised by the fact that costs were awarded against her. This is standard procedure, although less common with AVO cases.
You'd expect that having costs awarded against you might serve to discourage vexatious litigation, but nothing is very quite that simple with Ms Dorey. Rather than paying the legal costs out of her own pocket Meryl Dorey decided to go fund raising. After all she does hold a Charity Fund Raising License so why not put it to use?
That legal bill will need to be paid before the 21st of September. As a full-time volunteer for over 20 years, I have virtually no income nor do I have any way to raise these funds. For 20 years, through my involvement with the AVN, I have worked tirelessly to support and inform those who came to me for help. Our organisation was responsible for the introduction of the Conscientious Objection clause which allows families who don't vaccinate or who vaccinate selectively to access all government entitlements.

Now, it is my turn to ask for your assistance. If you believe in justice, support informed choice and are able to give any amount – no matter how small – to my legal fund to help pay the costs the court has required me to pay, I would be very grateful indeed. –Meryl Dorey, 26th August 2013
So how long does it take the Australian Vaccination Network to raise this kind of money?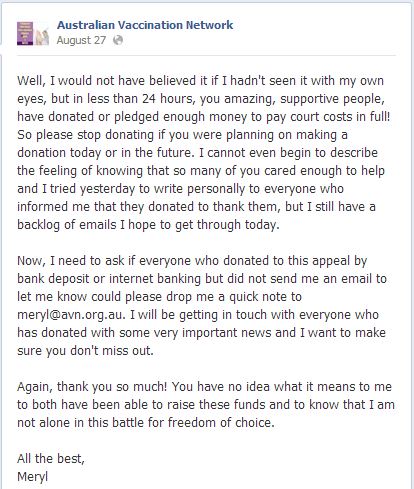 So the "full-time volunteer for over 20 years, I have virtually no income nor do I have any way to raise these funds." was able to use a charity fund raising license to secure $11,187.50 in funding to harass people with vexatious litigation in just 24 hours. With that type of income it's no wonder this organisation fights so hard to avoid closure.
Recently Peter Bowditch another defendant against Ms Doreys vexatious litigation campaign wrote to the Attorney General regarding these AVO applications. Here is part of the response.
Under section 99 of the Act, a court may award costs to the defendant, against an APVO applicant. This provides a further safeguard against vexatious or frivolous applications. However, a court is not to award costs against a police officer who makes an application unless satisfied that the police officer made the application knowing it contained matter that was false or misleading in a material particular.
This supposed "safe guard" clearly fails when the litigant is able to push a court imposed financial penalty onto their own fund raising charity. Besides what sort of charitable purpose does vexatious litigation fall under?