The New South Wales Department of Fair Trading has conceded defeat in its fight to have the Australian Vaccination Network change its name. Fair Trading initially ordered the AVN to adopt a new name back in 2012 and fought a year long court battle with the Anti-vaccination group to enforce the order. The court upheld the name change order in November 2013, therefore the AVN must legally change its name in order to comply with the Dept. of Fair Trading's request. (Written Decision)
But nothing is ever that simple when it comes to a diehard anti-vaccination cult, while most people would simply comply with the court order the AVN decided to do what they do best and invent so lies to avoid having to comply with the law.
The AVN officially changed its incorporated name to Australian Vaccination-skeptics Network and then registered their old name "Australian Vaccination Network" as a business name in order to continue trading under their previous name (ASIC Search). On Facebook they still trade under their old name: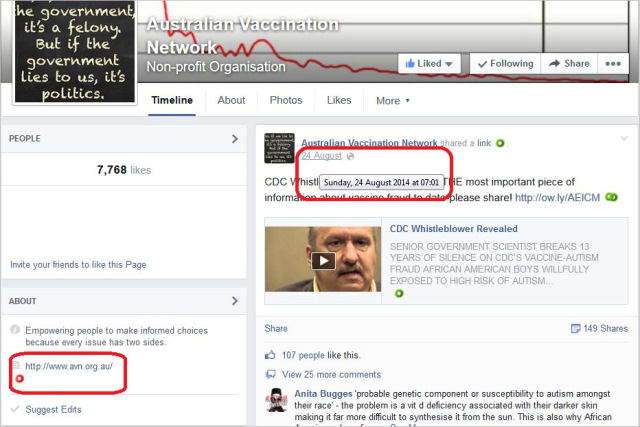 AVN still using the name they were ordered to change.
Concerned members of the public who notified Fair Trading months ago received correspondence that the name on Facebook would be changed.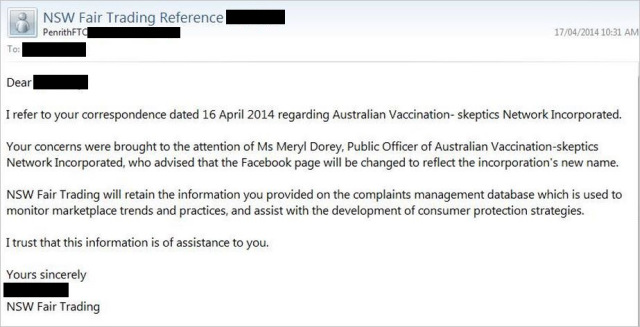 So after a quick follow up about about the change that is now 4 months over due Fair Trading had this to say: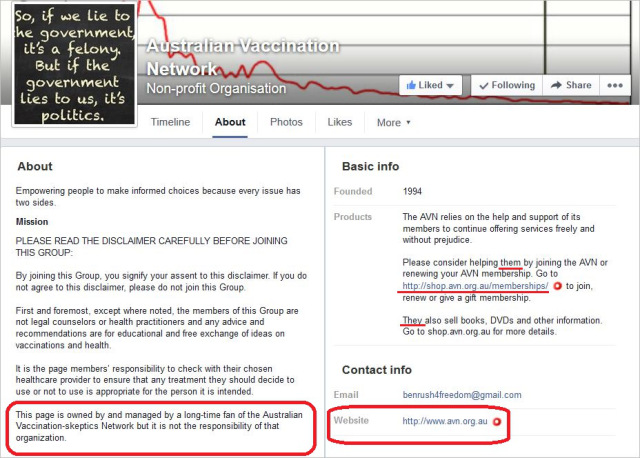 As you can see from the above screenshots not only did the AVN lie and now claim that they don't own, control or manage their official Facebook page. But Fair Trading has accepted the lie and is now surrendering its attempts to fully enforce the name change order.
The Australian Vaccination Network uses its Facebook page as the primary outlet for deceiving the public. The original purpose of the name change order was for the AVN to adopt a less deceptive name so it can't as easily pretend to be an official source for information. The decision by Fair Trading to back down and allow the AVN to keep using its old name on Facebook renders the name change moot.