Today I received an email from the Australian Vaccination Network that contained the usual anti-vax propaganda, but I did notice one small change. The postal address of the organisation has changed to Lumley House, Level 14, 309 Kent St, Sydney, NSW, 2000, Australia.
A quick Google search reveals that this address belongs to a company offering "Virtual Offices" to any shonk and crook who might need an impressive looking mailing address to impress a mark. Unlike a PO Box the "Virtual Office" is designed to create the impression that you have an office located in the Sydney CBD. It is purely a tool of deception, one that only questionable businesses tend to use.
Not only have the anti-vaxxers gotten themselves a bogus office, but they are paying a minimum of $60 a month. When a regular PO Box in Sydney CBD would cost $180 per year. This seems like a lot of money for a so called "Volunteer run organisation". I suspect they are going to register the "Virtual Office" as their place of business, which is one thing you can't do with a PO Box because legally your place of business needs to exist.
In addition to the deceptive address they have also handed control of the domain AVN.org.au over to Greg Payne whom I believe is married to one of the AVNs board members.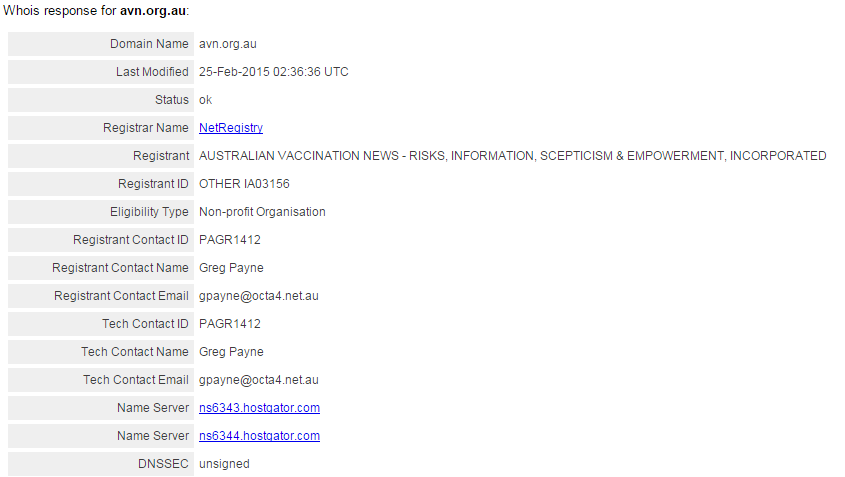 Meryl Dorey (founder) and Tasha David (president) clearly think they can minimise the legal repercussions if they spread the liability around. I think someone has been watching too many movies.