Readers of this blog will be aware that I own the business name "Australian Vaccination Sceptics Network" and also that the Australian Vaccination Network is in need of a new name since the Department of Fair Trading ordered them to adopt a new one.
Rather than adopting a new name they have decided to do the wrong thing and use my business name as their own.
As of Friday, March 7th, the Australian Vaccination Network, Inc. will now officially be known as the Australian Vaccination-Skeptics Network, Inc. We will still have the same domain address (www.avn.org.au) and will still go by the acronym "AVN".
I already own the business name they want to adopt.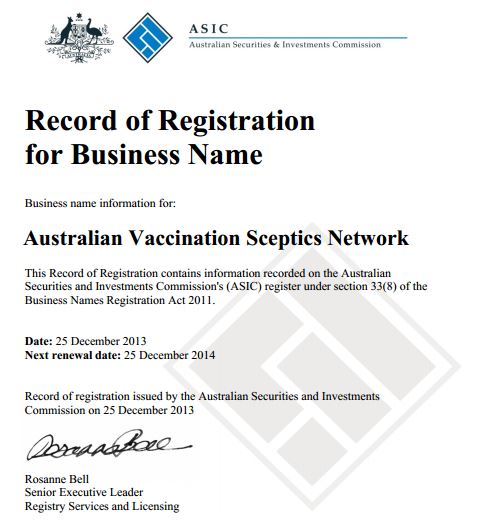 My business registration.
Within a matter of hours, Dr Rachel Dunlop, Mr John Cunningham, Mr Dan Buzzard (against whom our former President, Meryl Dorey, held an interim Apprehended Violence Order [AVO] for 10 months) and Ms Tracey McDermott had registered the following names:

Australian Vaccination Sceptics Network (ABN 33 627 009 978)
Australian Vaccination Skeptics (ABN 82 084 251 657)
Vaccination Sceptics Network of Australia (ABN 26 113 403 635)
Vaccination Sceptics Australia (ABN 12 806 631 921)

-Australian Vaccination Network, Newsletter 10th March 2014
So the AVN readily acknowledges that the name is already in use, but continues to use it anyway. The fallout from this will be even more painful for the AVN than they could imagine. After all when was the last time dishonesty worked in their favor?