The infamous public health menace Australian Vaccination-sceptics Network more commonly known as the Australian Vaccination Network has just submitted financial reports to the New South Wales Department of Fair Trading and the news is fantastic, at least for those of us who value the health and wellbeing of the community.
See: Documents Held by Fair Trading 7 September 2015
In 2009 a small but dedicated group of concerned citizens formed a Facebook group called "Stop the Australian Vaccination Network" after the organisation embarked on a campaign of abuse and vilification against a family who had just lost lost their four week old daughter to whooping cough.
See: The Australian Vaccination Network, abuses and vilifies grieving families.
For the past six years Stop the AVN and its supporters have fought a relentless campaign to hold the AVN accountable for the lies and fear mongering used to scare parents away from vaccinating their children. The responses from the AVN and its supporters has been highly aggressive with abuse, harassment, stalking and death-threats being standard modis operandi of the anti-vaccination movement. We have even witnessed anti-vaxxers plotting to visit the home address of a young woman who criticised a prominent member of the Anti-vaccination movement. The AVN has also filed lawsuits against critics and filed official complains with the press-council against journalists who report on the organisation in an unfavorable light.
However despite such aggressive opposition we are continuing to win or campaign to shut down the AVN. The lastest figures show they are effectivly on life support. From an annual income of $350,000 in 2007 to just $21,000 today. They have been reduced from a registered charity that the media used to turn to as an authoritative source on vaccination information to a paranoid group of fringe lunatics on Facebook who the media now vocally condemns as such.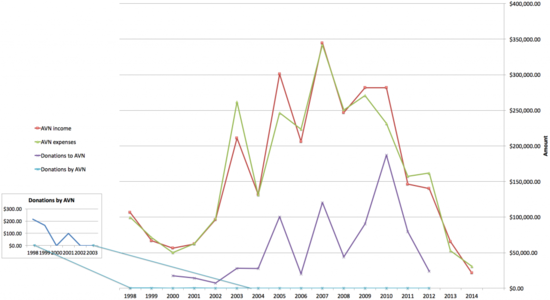 Graph by Dr Matthew Berryman
Not only have the AVN taken the financial hit but their membership is also in rapid decline.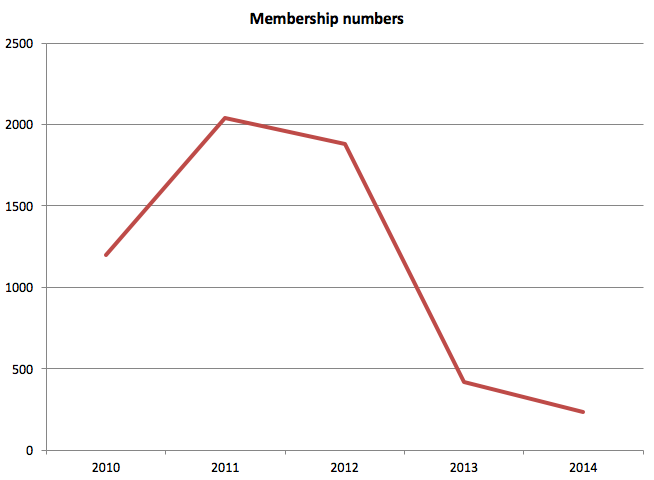 Graph by Dr Matthew Berryman
Download: Excel Spreadsheet of Income Expenses and Donations here.
So although the organisation still exists, and its likely that we will never totally eradicate it the small group of concerned citizens (Now 15,724 people on Facebook) has made a heavy impact against what was once a David and Goliath battle to bring down the nations most formidable health menace.
More documents relating the the AVNs finance can be found: here.
Never doubt that a small group of thoughtful, committed citizens can change the world; indeed, it's the only thing that ever has. -Margaret Mead