Homeopathy Plus, a sham operation that promotes fake medicine has been trying to fend off the Australian Competition and Consumer Commission (ACCC) since 2013. The ACCC took legal action against HomeopathyPlus for making fraudulent claims on its website about the 'benefits' of Homeopathy.
After a lengthy court battle the verdict is finally out and it's bad news for the fraudsters at HomeopathyPlus. Not only have they been ordered to permanently remove articles from their website: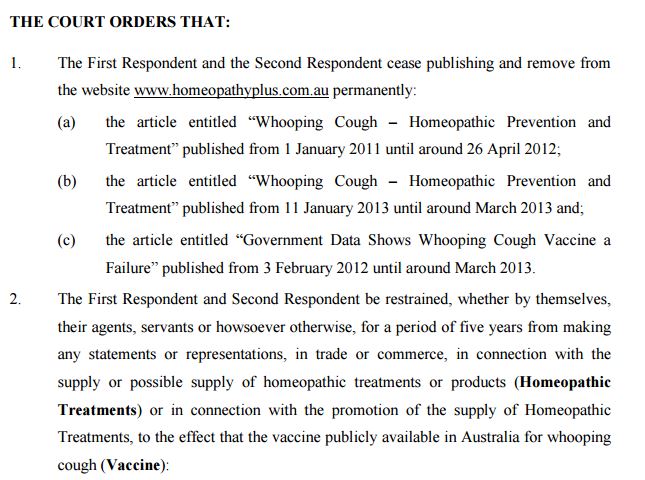 But they have also been fined $115,000 to be paid within 30 days of the order while Fran Sheffield the owner of HomeopathyPlus has been fined $23,000 to be paid within 90 days. Additionally the respondents/frauds must also pay the ACCCs legal costs which are unlikely to be a small sum.
However the real win from this case will be the aftermath. Now that the Federal Court has examined claims about the effectiveness of Homeopathy and found the evidence lacking it will set a precedent for future action against scammers who try and peddle this fake medicine.
The First Respondent and Second Respondent be restrained, whether by themselves, their agents, servants or howsoever otherwise, for a period of five years from making any statements or representations, in trade or commerce, in connection with the supply or possible supply of Homeopathic Treatments or in connection with the promotion of the supply of Homeopathic Treatments, to the effect that Homeopathic Treatments are a safe and effective alternative to the Vaccine for the prevention of whooping cough, for so long as:

A: there is no reasonable basis, in the sense of an adequate foundation, in medical science to enable the First Respondent and the Second Respondent to state that Homeopathic Treatments are safe and effective as an alternative to the Vaccine for the prevention of whooping cough; and

B: the Vaccine is the only treatment approved for use by the Therapeutic Goods Administration for inclusion on the National Immunisation Program for the prevention of whooping cough.

-Federal Court of Australia
So although this case focused specifically on the Whooping Cough Vaccine the fact that there is now a finding like this in a court of law combined with the ACCCs ability to recover their costs, means that it is both economically and legally viable for regulators to begin cracking down on this type of sham operation.
I look forward to the fallout from this ruling. It should give the pseudo-science community the shakeup it deserves.
Download: Australian Competition and Consumer Commission vs Homeopathy Plus