eBay is taking steps to prevent people from selling fraudulent items via its online auction system. Items that fraudsters will no longer be able to sell include Psychic Readings, Spells and Magic Potions.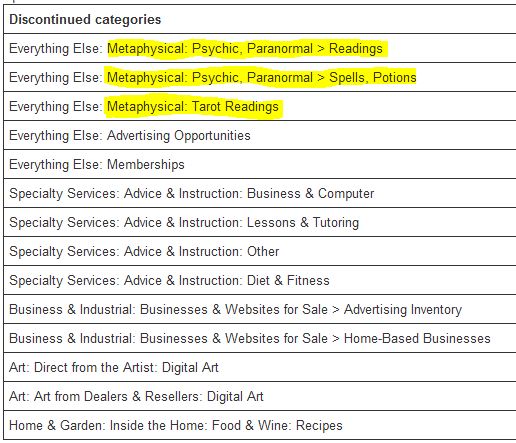 Screenshot from eBay
eBay gives the reason.
Transactions in these categories often result in issues between the buyer and seller that are difficult to resolve. To help build confidence in the marketplace for both buyers and sellers, eBay is discontinuing these categories and including the items on the list of prohibited items. –eBay
In other words buyers are sick of being ripped off by charlatans so eBay is at long last going to put a stop to it. Charlatans have until the 30th of August 2012 to cease selling these dodgy or non-existent wares.
Of course these crooks aren't simply going to disappear without a fuss and have set up a petition to urge eBay to allow them to continue their shonky trades
The petition lists 24 Facebook pages, 18 Twitter pages, 1600 eBay.com email addresses and the personal home address and telephone number of eBays current CEO. It seems these crooks are going to engage in a mass harassment/abuse campaign against eBay and their staff. We have seen similar tactics employed by anti-vaccine nuts in the past.
The pending harassment campaign comes as no surprise; I have learnt that people who make money by cheating and swindling are amongst the most hostile in the bullshit category. I only hope eBay has the security in place to protect its staff from this possible onslaught of nutbags.
Link: eBay catagory updates.
Link: Charlatan response.