There is little question the "freedom of speech" is a human right, but what about the tool that enables that right?
A study conducted by the BBC has concluded that as many as four out of every five people believe that access the Internet is a fundamental Human Right. I for one agree with them. The Internet has given our society a level of freedom unmatched by any other revolution in history and it is no surprise that the governments of the world fear there citizens newfound freedom, especially if they are addicted to power and authority. (I'm looking at you China, North Korea, Saudi Arabia and Australia)
Almost four in five people around the world believe that access to the internet is a fundamental right, a poll for the BBC World Service suggests.

The survey – of more than 27,000 adults across 26 countries – found strong support for net access on both sides of the digital divide.

Countries such as Finland and Estonia have already ruled that access is a human right for their citizens.

International bodies such as the UN are also pushing for universal net access. -BBC News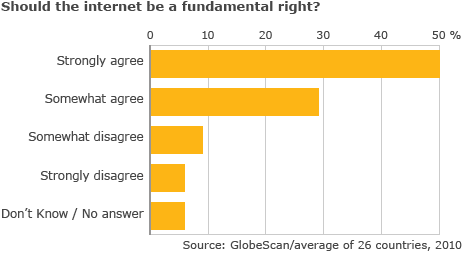 With the governments of the world fighting to control and limit their citizens speech and access to information I believe we are on the verge of a new revolution. If we wish to keep our freedoms and uphold our democracy we must fend off every attack against the tool that enables them, starting with the Australian Governments Internet Censorship. So long as there are power hungry tyrants with no respect for Human Rights we will need to continue defending our Internet from such attacks or risk a long downhill slide towards totalitarianism.