You may or may not have heard about this shill for Homeopathy called Dana Ullman. He happily promotes the bogus medicine of Homeopathy and has even written some books on it; handy if you happen to run out of toilet paper.
But it seems Dana doesn't like criticism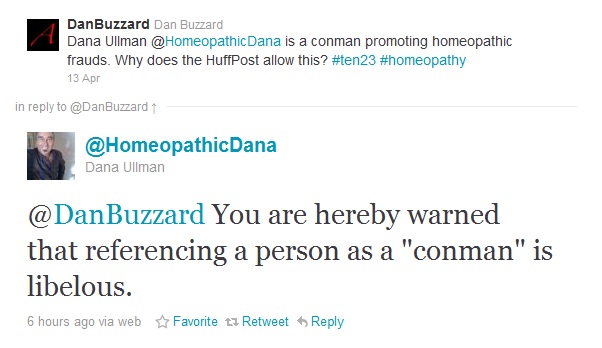 However such legal threats will do nothing to suppress criticism. Instead it would appear that a shitstorm is now brewing on Twitter. With more and more people openly accusing @HomeopathicDana (Dana Ullman) of being a "conman". Apparently Dana had never heard of The Streisand Effect whereby an attempt to silence a critic backfires dramatically. Was Danas tweet supposed to be a legitimate warning? I don't know but it failed miserably and now he will face the consequences of making it.
Don't think you can attempt to silence legitimate criticism and get away with it. This is the Internet, using threat of litigation will get you nowhere.