Following on from last weeks blog post the media are now starting to reveal the full extent of abuse targeting Peter Tiernan. The man whom myself and many others already stated is not Reasonable Hank. However the anti-vaccination movement has never been one for caring about facts. Last weeks information was sourced directly from the anti-vaxxers Facebook groups. Now the main stream media is getting Peter Tiernan's side of the story.
PETER Tiernan is being bombarded by threatening calls and messages from anti-vaccination activists and fears "one absolute nutter" could attack him or his family.

All because some activists think he is Reasonable Hank, a pro-vaccination blogger who has been enraging the anti-vaxxers for years.

The problem is Mr Tiernan, a 51-year-old physiotherapist who works in the Byron Shire, is not Reasonable Hank and never has been. –Jane Hansen, Daily Telegraph
After the revelation that they are targeting the wrong person it might be expected that the harassment might tail off.
However the offenders continue to incite threats and intimidation to be directed at Tiernan and show no remorse for their actions.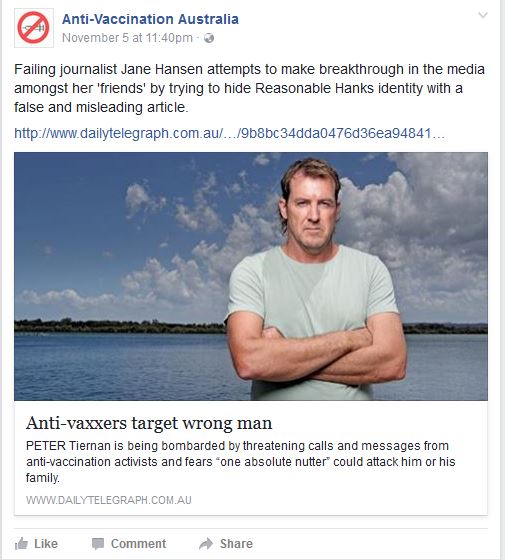 .
The ABC even reveals that they are targeting his children. I already mentioned last week that they were posting photographs of his children. Now it's revealed that they are trying to contact them.
The activists, who run the Anti-Vaccination Australia Facebook page and the Septic Skeptics website, believe they have unmasked Reasonable Hank whose real name is reported to be Peter Tierney.

However, the activists have mistakenly targeted Peter Tiernan.

Mr Tiernan said the case of mistaken identity began two weeks ago when his wife received a message on Facebook from someone saying "I'd like to talk to you about your husband".

The person also tried to contact Mr Tiernan, his 14-year-old daughter, some of his friends, and other family members on Facebook. –ABC News
A few anti-vaxxers have taken to extortion and blackmail to try and silence Reasonable Hanks whistle blowing activities.
Mr Tiernan said it was the first time he had heard of the blogger, so he began searching for him on Facebook.

He became alarmed when he saw threats against Reasonable Hank being posted online.

"They were sending messages to him using my profile picture from Facebook and saying 'We know who you are'," Mr Tiernan said.

"They told him if he didn't take his blog down they would expose me and my family."

Mr Tiernan said his daughter's school had also been named on social media, and photos of him with his family had been taken from his Facebook page and shared by the anti-vaccination campaigners. –ABC News
One of the main perpetrators Belgin Colak openly brags about her involvement in the stalking campaign.
She also claims to have a "big fat book of his whole family" suggesting that she has probably spent the past several weeks going through the profiles of her victims family members. This wouldn't be the first time that anti-vaxxers have targeted, friends, family and employers of their victims if the victim doesn't give them what they want.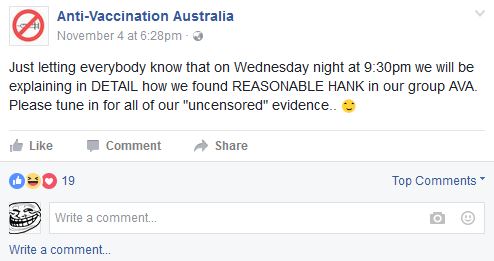 These people are really so deranged that they are going to provide evidence of how they stalked, menaced and harassed an innocent member of the public. I hope the law will come down hard on them for this one.