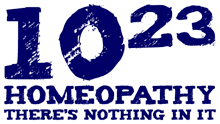 I just read a very unprofessional article titled "Pill protesters are missing the point on homeopathy" written by one Clodagh Sheehy. Of course being a news site there is little if any avenue for feedback so I will make my quick reply here.
Swallowing a pile of homeopathic pills to prove it does not work is a bit like standing in hot sun for two minutes and concluding it does not cause sunburn.
To start off this is an absurd analogy, overdosing on magic water is nothing like short term exposure to the sun. When you consume a substance it remains in your system for as long as it takes for the body to process; whereas short term exposure to the sun is just that (short exposure). If you absorb too much sun especially thousands of times more than normal you will be lucky if a sunburn is all you get. Not only is this a silly comparison but it is also an obvious false analogy.
The protesters say the remedies are just sugar pills with nothing in them — hence the overdose to prove their point. Homeopathy does not work the same way as conventional medicine and so they are not proving anything.
We know Homeopathy doesn't have any active ingredients, and the overdose shows this. Homeopathy works as a placebo which does not work that same way as conventional medicine. Add to the fact that different medicines work differently and you can quickly see how foolish the statement "does not work the same way as conventional medicine" really is.
If homeopathy is a con involving sugar pills why does the Irish Medicines Board, the regulating body for all medicines in this country, recognise and regulate homeopathic medicines?

Why is homeopathy incorporated into mainstream medical systems in many countries including Britain, which has specialised homeopathic hospitals? Why do health insurers in this country like Quinn Healthcare and Aviva offer cover for their clients for homeopathic treatment?
Just because something is accepted it does not mean it is automatically true. For example the Earth was once thought to be flat without any evidence to suggest that it was. We all know the fate of that belief. My point is that acceptance does not prove that something it true. Most of the Scientific community will tell you that you cannot dilute a substance beyond avagadros number. Widespread acceptance does not constitute evidence you also need to backup your claims.
If they were protesting about some kind of poisonous substance or dangerous drug ruining vulnerable people's health, their indignation would be justified, but this is not the case. If they are concerned that the public is being conned, they are insulting the intelligence of the 30 million people across Europe alone who regularly use homeopathic remedies.
Again with the bandwagon. Unfortunately those 30 million people are being conned through their own ignorance, fortunate we have skeptics to point out the fraudsters who profit by exploiting the sick.
The demonstrators argue that patients with a serious illness might shun doctors and rely instead on homeopathy. Are they suggesting that a sizeable group of Europeans, not to mention millions of others worldwide, are incapable of taking proper responsibility for their own health?
I wrote about this in my article titled "Whats the harm in Alternative Medicine?". Unfortunately it happens to be true not only do unethical practitioners lighten their victims wallet but can also cause serious harm to innocent people who genuinely believe they are being helped.
People should listen to their Doctors who know infinity more than they do when it comes to health. Listening to the professionals is always the most sensible option. Don't like your Doctors opinion, seek a second opinion from another Doctor just don't listen to the snake oil salesman who is trying to sell unproven treatments.
Scientists, at one point, believed the world was flat but as their knowledge improved they realised they were wrong. It is likely that in the future, quantum physics will deliver the scientific proof for homeopathy. As a gentle system of medicine, without toxic side effects, homeo-pathy is used by thousands of Irish people for both acute and chronic conditions. No one is suggesting that it is the only system of medicine.
This is the "Ad ignorantiam" the most common Logical Fallacy used by purveyors of Woo. It basically goes "We don't know it does not work, so it must be true" see how illogical that is?
The whole purpose of the ten23 campaign was to raise public awareness that there is Nothing in Homeopathy. We can just as easily prove this fact with Mathematics but the average layperson on the street would not understand as easily as when it is done right in front of them. The ten23 campaign was a practical demonstration that Homeopathy contains no active ingredient.
You can find out more about the ten23 event here: The 10:23 Campaign
Clodagh Sheehy also draws a poor conclusion.
Maybe instead of opening their mouths to swallow a pile of homeopathic pills, these protesters could open their minds to possibilities.
Science is open to knew ideas. Scientific knowledge is constantly advancing and moving forward with new discoveries. But all these discoveries are evidence based, you cannot just invent anything you like and expect it to be accepted. Evidence is a requirement of Science and for Homeopathy there is none.