Gunmen opened fire on a team of polio vaccinators in Pakistan's restive southwest on Wednesday, killing four of them and forcing authorities to halt an immunisation drive, officials said.

The incident happened on the eastern outskirts of Quetta, the capital of oil and gas rich Baluchistan province. –News.net
Anti-vaxxers have reacted to this news of murder with delight and celebration. On a Facebook group called Vaccine Resistance Movement.
Henry Carling of South Bend, Indiana writes: Sad but think how many children were saved. No worse than bombing an abortion clinic.

Lou Ine writes: too bad bill gates wasn't there

Michael Kohloff of Riverside, California writes: I can't really fault them. Self Defense.

Haven DeLay writes: Can you blame these people in India for being angry? I think not. Bill should make a visit to India. Bet they would just love to see him there. I just have no sympathy for child poisoners.

Rose Love from Reno, Nevada writes: Epic Karma!! If someone came in and killed, sterilized or paralyzed 47,500 of my children and friends and families children I might be tempted to do the same.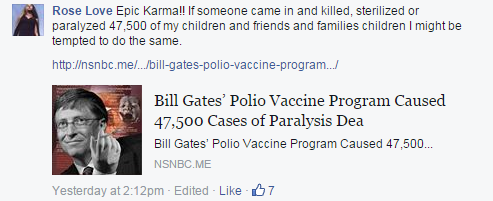 Murder is Epic?
Could the anti-vaccination movement become any more unhinged? My prediction; yes.