Belle Gibson claims to have survived cancer and has used the story of her miraculous survival to raise money for charity by creating The Whole Pantry, an electronic cookbook full of recipes to promote a healthy lifestyle. However despite raising over $300,000 for charity Ms Belle has instead kept the money rather than handing it over.
Melbourne businesswoman Belle Gibson, founder of food and health app The Whole Pantry, solicited donations from a loyal following of 200,000 people in the name of at least five charities that have no record of receiving money from her. –The Age
When confronted by angry members of the public The Whole Pantry started spewing all sorts of pathetic excuses for the charity swindle. Their favorite being that their books are being brought up to date.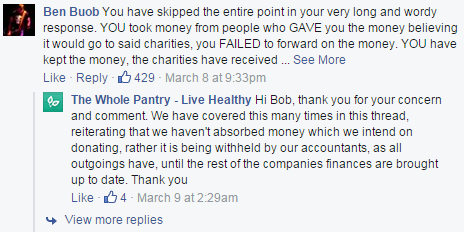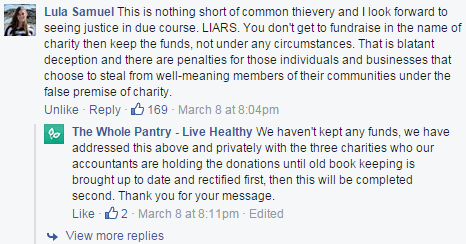 The Whole Pantry also states on its Facebook page: "TWP, is a for-profit company, but has great, enthusiastic intentions of giving back as much as possible to the organisations and charities which the TWP team and community support, respect and are passionate about." This claim to be a non-profit company is quickly refuted with a search of the Australian Securities and Investments Commission records.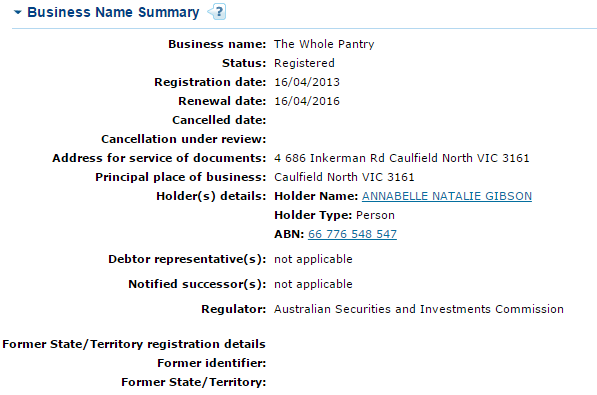 The Whole Pantry is not a company, or any other type of legal entity. Instead it is the business name of Belle Gibson who runs The Whole Pantry as a sole trader. There is of course nothing wrong with this particular business model, but why lie and pretend to be a company when you are not. I can only speculate that this may be to take the heat off her co-conspirators who have referred to her as "Belle, our previous Managing Director,". Or it could be the fact that individuals face prison time, while a company only faces a $28,000 fine.
Not only did Belle Gibson/The Whole Pantry fail to pass on the money she raised for charity but now there are doubts about her having ever had cancer. In fact she now seems to be covering up all claims of having ever had cancer.
SOCIAL media entrepreneur Belle Gibson appears to be erasing her stories of terminal illness from the internet, as further evidence emerged yesterday casting doubt on her claims to have survived a terminal brain tumour for five years without treatment. Ms Gibson, who began an internationally successful "wellness" business on the back of her claims, failed yesterday to respond to a report in The Australian that revealed her history of unusual and contradictory claims of terminal illness.

–Herald Sun
Belle Gibson built her little business empire with story of her cancer survival and if she hadn't swiped the charity money chances are nobody would question her health claims. After all who's going to take the risk of falsely accusing a cancer patient, of anything.