Former Queensland Police Officer turned public health menace Chris Savage is now on the loose in New Zealand after fleeing from Indonesia earlier this year. The notorious anti-vaccination campaigner who calls himself a "Jedi Doctor" is now being investigated in three different countries for practising medicine without a license.
Health authorities in New Zealand have warned people not to take medical advise from Chris Savage.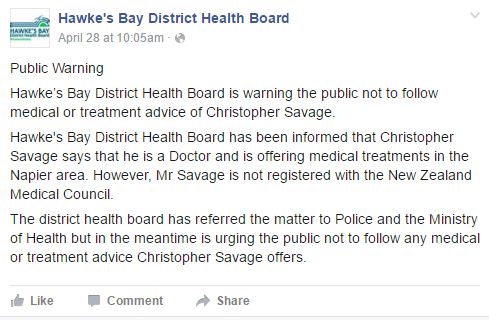 The referral to the police is especially interesting, does this mean we can finally see this public health menace held to account for his actions? I certainly hope so. Especially now that one of Mr Savage's victims has been hospitalised.
Health authorities were alerted to a self-styled "therapist" operating in Hawke's Bay after a man he treated was admitted to hospital.

Hawke's Bay District Health Board issued a warning on Wednesday about Chris Savage, a prominent Australian anti-vaccine activist who also describes himself on social media as an "oxygen therapist to detox efficiently".

The DHB said it had been told Savage was offering medical treatments in the Napier area, and advised the public not to follow any medical or treatment advice he gave, because he was not registered with the New Zealand Medical Council. –Stuff.co.nz
This is certainly one kook worth keeping an eye on. Like many anti-vaxxers it looks like Chris Savage is determined to cause as much harm to the public as possible, no doubt we will be learning a lot more about him in the future. We already know how he feels about medical professionals.