The New South Wales Health Care Complaints Commission has launched a new investigation into the Australian Vaccination Network.
The New South Wales Health Minister, Jillian Skinner, has told State Parliament the Health Care Complaints Commission is launching an investigation into the anti-immunisation group, the Australian Vaccination Network.

The announcement came after the Opposition raised concerns that the AVN was using its Facebook page to encourage parents to join up to a religion, in order to avoid new State Government vaccination laws. –ABC News
Yes the Australian Vaccination Network really is trying to promote a new religion in order to flout the law.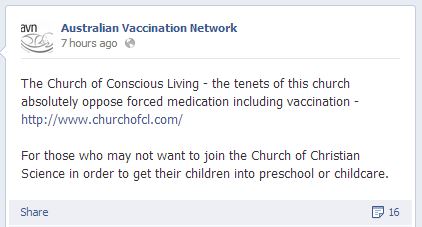 Anti-vaxxers are nothing if not creative when it comes to dodging the law. I'm confident that our lawmakers will soon find a remedy to patch this unscrupulous attempt to circumvent the law. This is not the first time the HCCC has investigated the AVN.