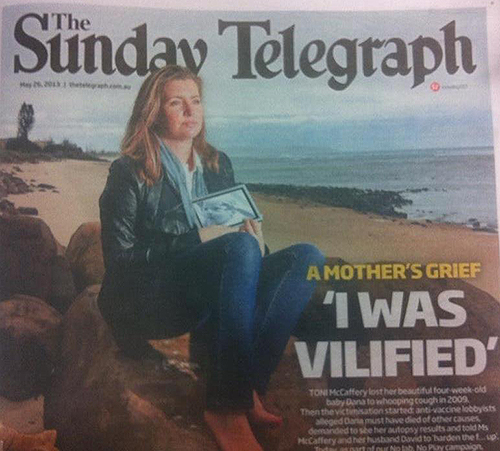 The Australian Vaccination Network is in the news again for trying to bully a family whose daughter died of whooping cough. Four years ago Dana McCaffery died from Whooping Cough, she was born into the midst of a Whooping Cough epidemic and was too young to be vaccinated.
What followed was an unrelenting campaign of abuse and harassment aimed at Dana's family. Meryl Dorey the president of the Australian Vaccination Network at that time took it upon herself to intervene by writing on her organisations website.
When this little girl's death was announced, the media were reporting several things that made me question that this baby had actually died of whooping cough. I contacted the head of the public health unit and asked if this case of pertussis (whooping cough) had been laboratory diagnosed. -Mery Dorey, 2009
Meryl Dorey likes to bill herself as an expert on vaccination. Though in reality she has no medical training, and no research experience. Although she may sometimes claim to have been "Researching this issue for the last 20 years" the reality is that she simply cheats and scams parents into believing her lies. Fortunately Dorey was denied the information that she had no right to ask for in the first place.
At last Dorey is finally getting the recognition she deserves with a story in the Daily Telegraph..
The McCafferys are today breaking their silence on the cyber bullying,the anonymous letters and the cruelty of some members of the anti-vaccination movement.

The couple has been accused of being on the payroll of drug companies; they have had their daughter's death questioned and mocked; they have even been told to "harden the f . . . up" by an opponent of vaccination.

"The venom directed at us has just been torture and it's been frightening, abhorrent and insensitive in the extreme," says Toni, who has not had the strength to talk about this until now.

The invasion of the McCafferys' grief started the day before they buried their baby girl. Meryl Dorey, who heads up the Bangalow-based Australian Vaccination Network, rang the head of the North Coast Area Health Service, Paul Corben, to demand Dana McCaffery's autopsy reports. –The Daily Telegraph
Judy Wilyman, a student at the University of Wollongong has even accused the McCaffreys' of being on the pay roll of major pharmaceutical companies. But the McCaffreys' aren't the only family to be targeted by Meryl Dorey and her followers.
In 2009, Terrigal father of four Chris Kokegei turned off his seven-year-old son Michael's life support system three days after the little boy caught chicken pox. "It's just pain, the pain, it is so awful," he says.

Like the McCafferys, he went public to raise awareness about vaccination. In 2010 he did three television interviews and he left his phone number with each network for other parents to get in touch.

Soon after, he received a call from a woman who claimed she was from the AVN. He does not recall her name.

She accused him of doing the community a disservice, saying he should not be promoting immunisation.

"Then she went on saying my son was obviously weak and the weakest of the herd are not meant to survive, I should just get over it," he says. –The Daily Telegraph
Cecily Johnson lost her 12 year old daughter to measles in 1995. Her daughter Laine had previously contracted measels at the age of 10 months, but survived. But a deadly side effect was lying in wait and eventually claimed her life years later.
Cecily Johnson wanted to warn others of the danger posed by measles and attended some of the AVNs "information" sessions. Meryl Dorey eventually threatened her with an Apprehended Violence Order as a means of silencing her.
When questioned by the media Ms Dorey denies having ever heard of Cecily Johnson. However Ms Johnson is mentioned several times on Ms Doreys' blog. If you going to lie and say that you've never heard of someone, perhaps you should check your own website first.
I don't expect the AVN to change it's abusive tactics anytime soon.