Shawn Dhu is an anti-vaccination campaigner from Western Australia and an associate of Judy Wilyman. Both of whom were involved in the recent attack against the Telethon Kids Institute. Both of whom were applauded by the notorious Australian Vaccination Network for their actions.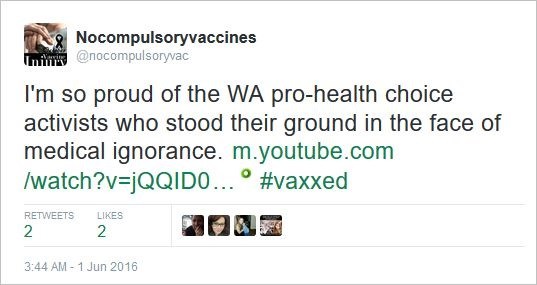 After hearing of the incident I was very tempted to write a scathing email to the Telethon Institute for their failure to provide adequate security at an event likely to attract AVN supporters (Yes, medical research has now come to this). The violent nature of AVN supporters is extensively documented with some of them being well known to the police.
However such an email would not achieve anything since whoever was in charge on that night now knows about the issue they face when dealing with the anti-vaccination movement. I personally avoid places likely to contain AVN supporters for my own safety and have for a number of years advised other people not to deal with them unless they understand the situation.
Reasonable Hank who works tirelessly to expose cranks and charlatans is no stranger to abuse from random cowards on the Internet. However recently the AVNs supporters have been taking things to the next level. Yesterday Reasonable Hank revealed that Shawn Dhu has made a public and explicit threat to assault him.
I'm coming for you mate and if I find out who you are and I can get my hands around your scrawny little neck because I bet you're a scrawny little bastard with no soul or whoever you are reasonable Hank hear me well here del bigtree and here the world we're coming for you mate so you better delete you goddamn facebook profile you better get the hell off Twitter and you better stop harassing victims with your bullshit because you my friend and not my friend. -Shawn Dhu
While it is not uncommon to receive threats and/or abuse from anti-vaxxers. Most offenders attempt to cower behind the veil of anonymity and are not as easily identified as Shawn Dhu. This is not the first time that anti-vaxxers have threatened physical violence and it almost certainly won't be the last.