Yesterday the Police came to my door to deliver a summons for court in NSW. The summons, delivered on the 25th is for a court hearing on the 27th. That's 48 hours in which to prepare a defence and travel to the other side of the country. Prior to this I had no idea what the grounds for the application were. Needless to say I won't be in court for the mention, but I will certainly attend the later hearing which is when the real action takes place. I've already written to the court to notify them of my intent (even before getting the official summons).
Not only did the summons arrive late but it was also sent to the wrong address as I live nowhere near Attadale. You can't just pick names out of the phone book and decide that's where you want to send a summons. While anti-vaxxers aren't known for their accuracy this type of failure suggests that there was never a "Private Investigator" involved, either that or Meryl went with the cheapest she could find. In either case an inaccuracy of more than 30 kilometers is hardly the work of professionals.
I wonder what the court would make of this 48 hour notification.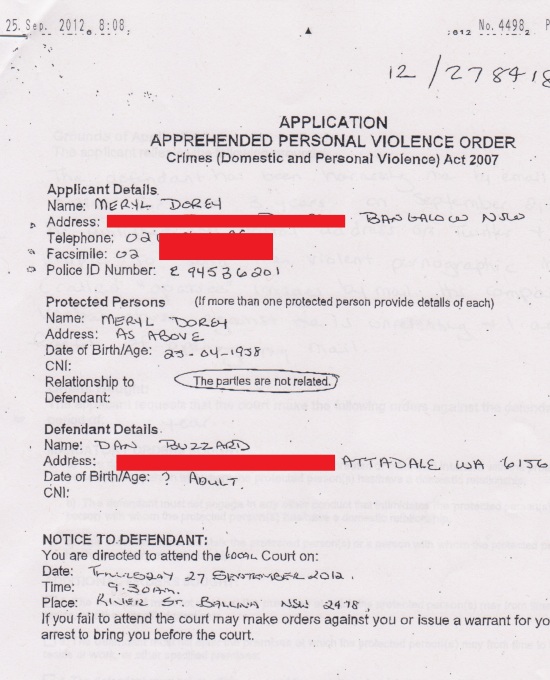 The two orders she's seeking are. (my scanner broke)
1. The defendant must not approach or contact the protected persons by any means whatsoever except through the defendants legal representative.

2. The defendant must not mention the applicant in any online forum in any derogatory manner.
I'm guessing she had to choose #1 just to make the application look legitimate. Not an easy task considering we've never met in person, and to my knowledge only been in the same building once during a seminar in 2010. Or perhaps those 4 (polite) emails in 3 years really got to her.
However #2 is an option that she was able to write in, under "other". No doubt she's tired of the criticism on this blog. Perhaps if she would stop doing dishonest things then I might not have anything to criticise her for.