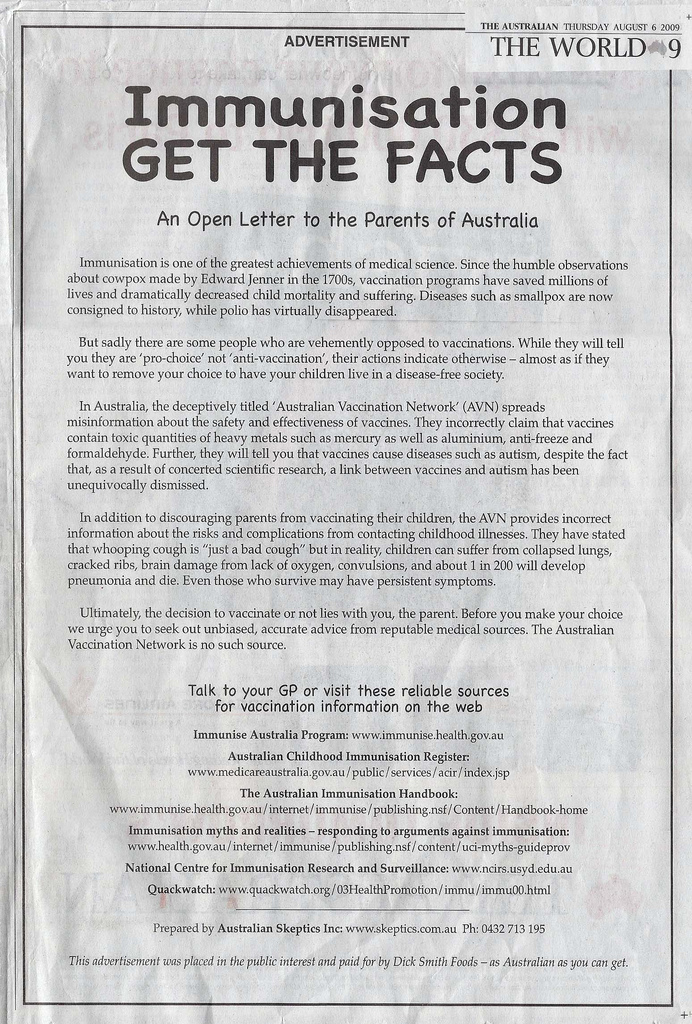 The #antivax group deceptively called "The Australian Vaccination Network" are coming to Perth and will be using the State Library of Western Australia to hold their seminar on Influenza Vaccination. Their last venue the Uniting Church in Australia decided that they wanted nothing to do with the AVN, after being informed of the organisation's questionable ethics.
The Australian Vaccination Network despite it's name is an anti-vaccine organisation, which is almost as ridiculous as an anti-seatbelt organisation. Except that this is no laughing matter; peoples lives are put in danger by the spread of this misinformation. As we have already seen.
This unethical health meanace should not be entitled to use a Government building, especially a library to spread their misleading information. Their aim is to scare parents into skipping vaccinations that could save their child's life. With vaccines being one to the greatest medical advancements in history the AVN has no justifiable grounds for it's scare campaign.
I encourage everybody who reads this to contact the Library and inform them about what the AVN is really all about. (Be polite)
State Library of Western Australia
25 Francis Street
Perth Cultural Centre
Perth WA 6000
Australia
Ph: 08 9427 3111
Also take a moment to read the letter to Australian parents that is attached to this post; written by Australian Skeptics Inc.
Attached: Immunisation get the Facts.