The plight of the Australian Vaccination Network, now known as Australian Vaccination-skeptics Network has taken an amusing turn for the worse. The Director of Investigations, Compliance and Enforcement Division, at the department of Fair Trading has ordered the AVN to quit using the acronym 'AVN' and instead adopt the acronym 'AVSN' to reflect the groups new name.
The reason the anti-vaxxers have inserted a hyphen into their new name is so they can claim that "Vaccination-skeptics" is a single word and can therefore keep the initials AVN.

They thought they were smart. Until this happened:
If you have been following our saga during the past year you will know the prequel to this post. For those who missed it, we were directed last year to change our name – after 16 years – because our opponents complained that it was misleading. After exhausting our avenues of appeal, it turned out the Minister for Fair Trading had the power to enforce this. In fact, he introduced a new regulation just so that he could see this through!

So we changed our name. We are now "Australian Vaccination-skeptics Network Inc". The new name was accepted by our members, as well as by NSW Fair Trading.

Now we have a new threat. Director of Investigations, Compliance and Enforcement Division, Mr David Byrne, phoned last Friday to say he requires us to change all instances of the abbreviation "AVN" to "AVSN". And he has threatened to commence action without further notice to shut us down and remove our domain from the internet. -Australian Vaccination-skeptics Network, 25 March 2014
The AVN/AVSN currently appears on the first page of Google for "Vaccination" their domain name is vital tool for gaining a new audience and they know it. Which is why they tried the hyphen bullshit.
Not only are they trying to avoid changing their website name but they are also refusing to rename their Facebook page, which is still listed as "Australian Vaccination Network" despite yesterdays deadline for the name change. The trick they are trying with the Facebook page is to create a fake account and pretend the page now belongs to someone else.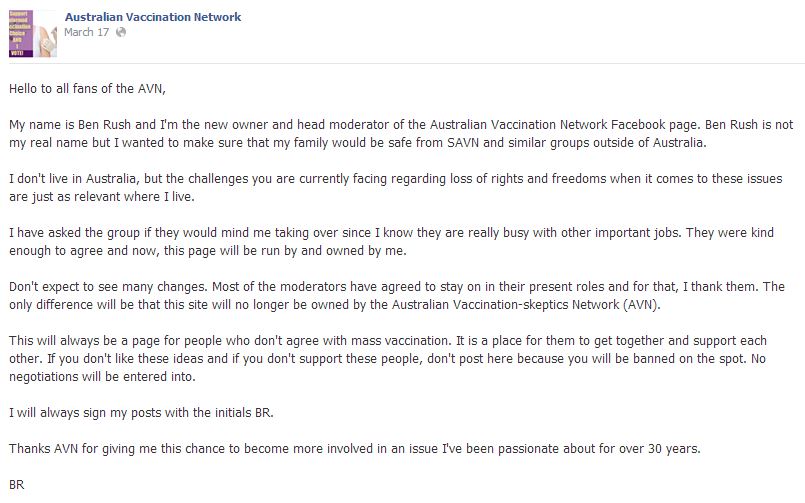 Once more AVN supporters thought this would be a smart move.
I hope this obvious bullshit gets tested in court, it will be amusing to see them explain how their page now magically belongs to an unidentified person who conveniently resides overseas.
So what next for the AVN/ASVN?
There has been plenty of speculation about the possibility of the organisation going on the run to escape New South Wales authorities. Recently they have registered the business name "Australian Vaccination Network – QLD" fuelling speculation that they may cross the border into Queensland. We will have to wait and see.