For the past 17 years Meryl Dorey has been waging a war against public health in Australia. She is the Founder, President and Spokesperson for the Australian Vaccination Network. Despite its name the Australian Vaccination Network is actually an anti-vaccination pressure group that bullies and harasses anyone attempting to protect the community from vaccine preventable disease.
I first crossed paths with Meryl Dorey and the AVN when she decided to come to Perth in 2010 to spread her misinformation. Having already had one venue cancel on her she now set sights on the state library  as the new venue to spread her misinformation. Fearing that the library might cancel their talk Meryl Dorey asked all the subscribers to her newsletter to email the library and urge them not to cancel the talk. She also asked that she have all correspondence sent to the library cc'd to her; obviously some form of ego boosting.  So I sent the library an email  informing them of the harmful misinformation that the Australian Vaccination Network was intending to spread in their venue. As requested I also cc'd the email to Meryl so she could see what I said to the library about her. I believe this action was the start of her loathing towards me.
I also attended her talk at the state library and wrote about it briefly here. I found out later that my presence didn't go unnoticed. In fact Meryl seemed to be quite upset about having Skeptics present at her talk and decided that we were to blame for increased security measures at the state library.
Buzzard, I was perfectly well aware of your presence and that of your 2 little friends as well.

The library excluded the television cameras – not us. They said that due to the threats they had received from people you associate with, no media were allowed at the seminar.

We welcomed cameras and welcomed your presence too. We hoped that if more people are able to access information from both sides of this issue, they would be better able to make an informed choice about vaccination for their children and for themselves.

Remember Buzzard-you Skeptics are the ones trying to deny others access to both sides of this debate-not the AVN.

Oh, also, we had to pay an extra $100 to the library for extra security due to the threat posed by the Skeptics. Maybe, since you Skeptics are responsible for that expense, you might have one less case of beer this week and instead, donate the funds to the AVN to make up for the extra expense you've caused us?

On second thought however, don't bother. You've done our cause a great favour. Because of all the extra publicity due to your group's ravings, instead of just talking to 100 people in some quiet little church hall, we spoke to twice that many in a gorgeous venue at the state library and have at least that many again who have already expressed interest in our next seminar in Perth so-well done and we'll call it even.

I do want to ask you though, while we are on this subject, How does it feel to be associated with a group of bullies who force organisations like the State Library and the AVN to have to hire protection just to enable us to exercise our right to free speech? Does it feel good to belong to the thought Gestapo? To be associated with the anti-democracy SS?

Lastly,we have taped the entire seminar and will be publishing it free of charge on the Internet so watch this space. If your own recording was not of good quality, you are free to listen to ours.

Yours in health,
Meryl
Then all of a sudden the Australian Vaccination Network was brought into the spotlight  thanks to a complaint lodged with the New South Wales Health Care Complaints Commission by Ken McLeod. The HCCC conducted an investigation  into the AVN. The HCCC found:
by the Health Care Complaints Commission under section 94A of the Health Care Complaints Act 1993

The Health Care Complaints Commission has investigated two complaints about the Australian Vaccination Network (AVN), a non-profit organisation registered in New South Wales that provides information about vaccination. The complaints alleged that the AVN provides incorrect and misleading information about vaccination.

The Commission's investigation of the complaints focussed on the material presented by the AVN on its website www.avn.org.au.

The Commission's investigation established that the AVN website:

provides information that is solely anti-vaccination
contains information that is incorrect and misleading
quotes selectively from research to suggest that vaccination may be dangerous.

On this basis, the Commission recommended to the AVN that it should include a statement in a prominent position on its website to the following effect:

The AVN's purpose is to provide information against vaccination, in order to balance what it believes is the substantial amount of pro-vaccination information available elsewhere.
The information provided by the AVN should not be read as medical advice.
The decision about whether or not to vaccinate should be made in consultation with a health care provider.

The Commission recognises that it is important for there to be debate on the issue of vaccination. However, the AVN provides information that is inaccurate and misleading.

The AVN's failure to include a notice on its website of the nature recommended by the Commission may result in members of the public making improperly informed decisions about whether or not to vaccinate, and therefore poses a risk to public health and safety.
This resulted in the HCCC issuing an official warning against this public health menace. The result of this public health warning was an immediate media backlash against the AVN who were now seen for what they are; a menace to society. With so many media agencies now turning their back on the Australian Vaccination Network, Meryl now went on the offensive and began accusing accusing the media of going on a Witch Hunt.
But it wasn't over, not by a long shot. Now that the true nature of the AVN and its president was known the NSW Office of Liquor, Gaming and Racing began to question the legitimacy of the AVNs charity status. It didn't take long for them to discover the uncharitable nature of the organisation and as a result their license to fundraise was revoked ; a fantastic victory for community health.
A CONTROVERSIAL NSW-based anti-vaccination group has been stripped of its charitable status after the state government found its appeals had not been conducted in good faith.

The Australian Vaccination Network (AVN) was ordered in July to publish a disclaimer on its website stating the group was anti-vaccination and its material shouldn't be read as medical advice.

On Thursday, the NSW Office of Liquor, Gaming and Racing (OLGR) revoked the group's charitable status on the grounds it had failed to publish the disclaimer as recommended by the Health Care Complaints Commission (HCCC). –Herald Sun
Then in January of 2011 Meryl Dorey likened vaccination to child rape.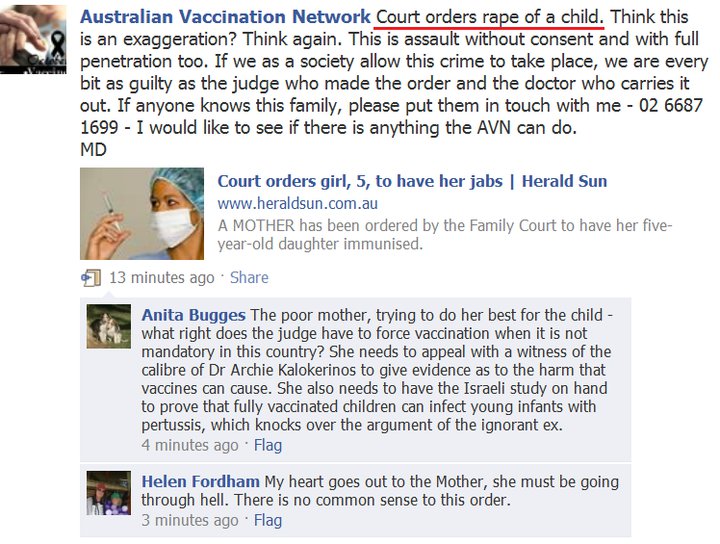 According to Meryl Dorey if you vaccinate your child then you're a rapist. This is coming from an organisation that claims to be a "charity".
Meryl Dorey later retuned to Perth. However I didn't attend this second time. But I was interested to learn the the AVN had engaged in illegal fundraising while over here. Did she think no one would notice if she came to the other side of the country?
During the recent AVN tour of Western Australia, the Caravan of Carnage, Meryl Dorey was handing out flyers. The flyers include details of how one can "donate" to, and/or "become a member" of, the AVN. That these flyers were handed out is a demonstrable fact. We have one. –Reasonable Hank
On par with her Vaccine Rape claim Meryl posted a link of Facebook to an article that calls for the murder  of personnel at the Centres for Disease Control. Again this is from an organisation that claims to be a "charity".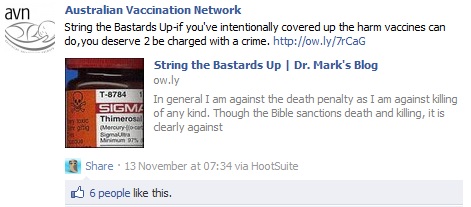 What an upstanding member of the community.
Meryl Dorey later decided she would speak at the Woodford Folk Festival and once more she asked her subscribers to write to the festival organisers to ensure that she wouldn't be cancelled. So of course I wrote to the festival to ask them to reconsider giving this public health menace a platform. Once again I included Mery in the cc field.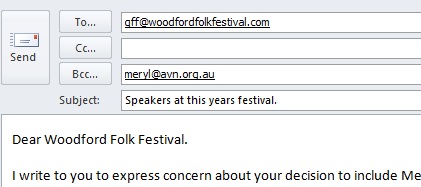 The AVN sent out a very amusing newsletter criticising her critics. Fair enough but what I found most amusing was her criticism of me.
Their attitude towards religion is every bit as intolerant as it is

towards those who want to make informed vaccination choices. From Dan Buzzard in WA who has a web page entitled Everybody Draw Mohammed which features pictures of the prophet Mohammed doing obscene things and totally denigrating Islam to stating the following about the

Catholic church:

Daniel Buzzard 27.3.11 – Fuck the Catholic Church. Who dares me to walk into the Church service with these?

The signs I wanted to take into the church.
Apparently I made some rude remarks about paedophiles, although I am not surprised that an anti-vaxxer would complain about that considering they oppose childhood vaccinations.
Equally funny is Meryl Dorey complaining about having to comply with government regulations
The real villains here are those members of the Australian Skeptics and Stop the AVN who – though they themselves have not been harmed by any of these products, by any of this information or by any of these remedies – intentionally waste the public's time, money and expertise by pursuing vexatious and absolutely ridiculous complaints. The Skeptics have worked out a way to rort the system by using current legislation to victimise those who they disagree with. And the ones who lose out when this sort of fraud is perpetrated by a group that opposes freedom of choice and speech are the Australian taxpayers. -Meryl Dorey, 28 April 2012nocompulsoryvaccination.com
What sort of "charity" fears government regulators? Well the Australian Vaccination Network for one.
Of course this amount of criticism has over time has prompted Meryl Dorey to go on the offensive. While her critics use only words to address her nonsense, it seems Merl is prepared to go to any length to avoid criticism. That includes committing Perjury in the United States by submitting false complaints under the United States Digital Millennium Copyright Act to have her critics post removed from US based service providers, such as Facebook.
She also engaged in a childish revenge activity of registering a similar name to the Australian Skeptics. Honestly this is the type of activity that could be expected from a child; not a "charity" organisation. However this did provide me with an opportunity to report her  to yet another government regulator.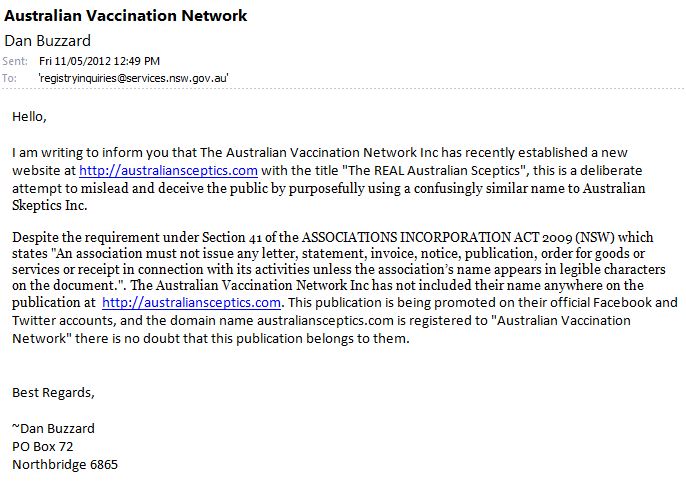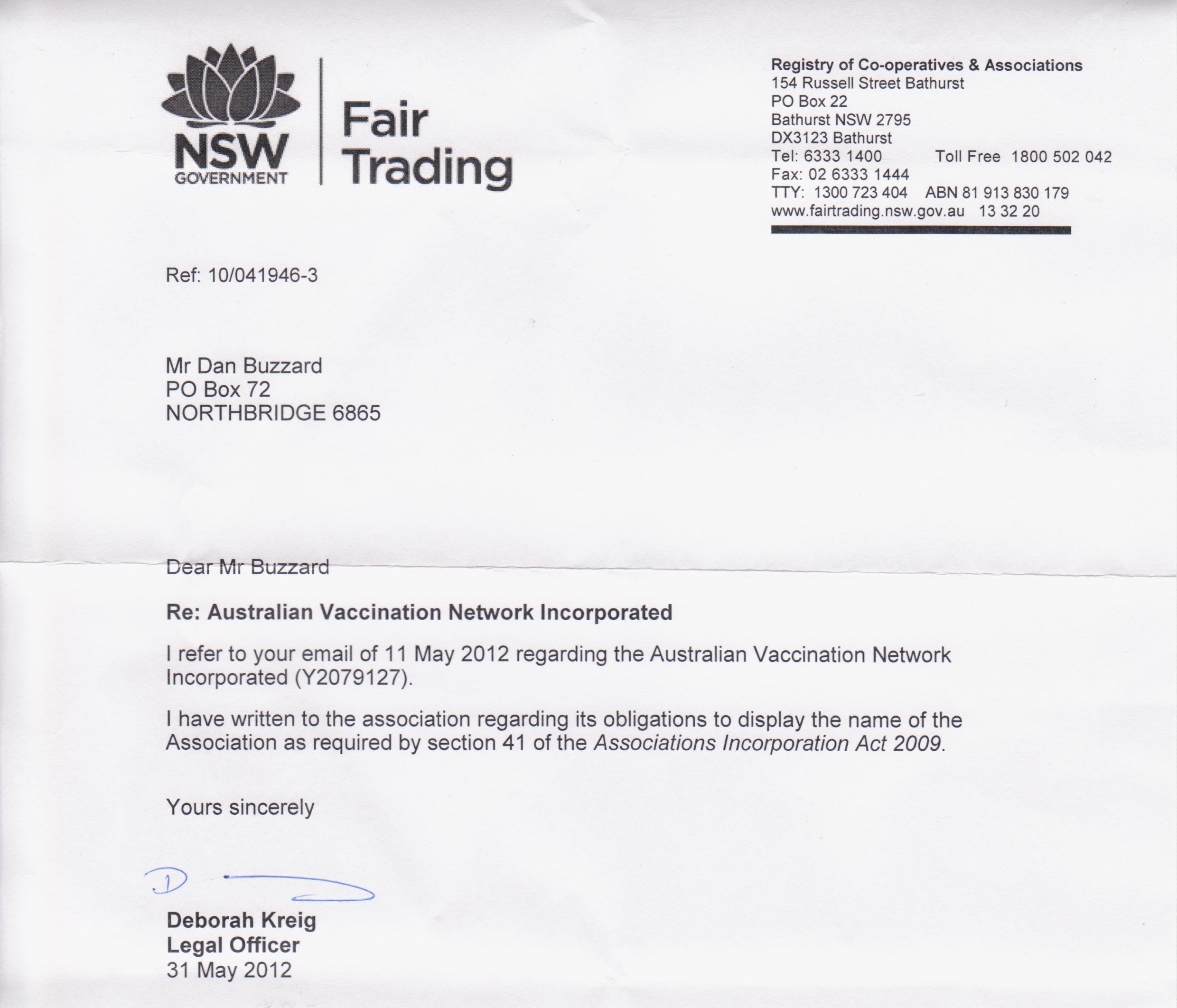 Another attempt to silence Skeptics was made by supporters of the AVN. It would appear the supporters have been
falsely reporting
Skeptic websites as malware in order to get them blocked by consumer level security software. Fortunately this activity does limited temporary damage, but it's still an inconvenience to deal with and shows just how desperate AVN supports are to supress information.
I had a new attack was launched against me recently where the Anti-vaxxers go through my Facebook profile and start reporting my posts as abusive. Since Facebook is an automated system no human is involved in the processing of these complaints and I was subsequently banned from Facebook for 24hrs.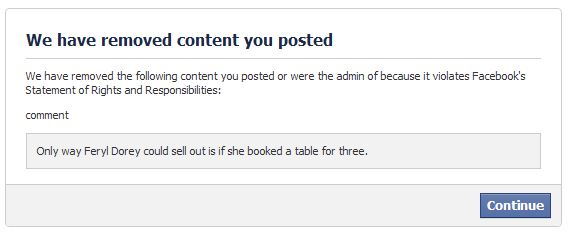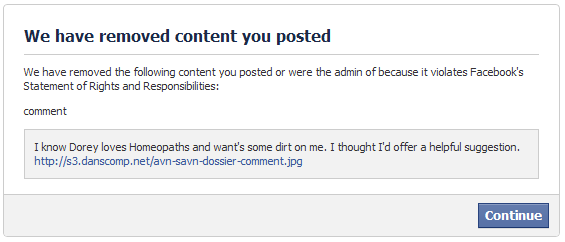 That's right those two innocent posts got me banned from all of Facebook for 24hours. The posts were on a Skeptics Facebook page, but obviously they where seen by either Meryl Dorey or one of her supporters. I should point out again that this can be done by anyone without any oversight from Facebook.
Now Meryl Dorey has launched a fresh series of attack against her critics by setting up a "Dossier of Attacks on the AVN"  where she and her followers criticise her critics. Clearly she is upset by the honesty of her critics; which is why I sent her the Butthurt Report Form. It's quite pathetic since the most serious offence any of us seem to commit is that we might be rude at times. Quite tame compared to the war she's be raging against community health all these years. Not to mention the crime of Perjury (false DMCA) she's been committing in the United States just to silence us.
Now another new attack has emerged this week. In a desperate attempt to silence criticism Mery Dorey is now applying for Apprehended Violence Order against her critics. Of the three applications she's made one of them is against me. The application is being made in a NSW court, thousands of kilometres away. Not only has Meryl Dorey chosen to file so far away from me but she is also doing it in secret without summoning me to defend myself. I only found out about her application due to a tip-off. Although this type of underhanded tactic doesn't come as any surprise, I've come to expect such actions from dubious individuals. This action is especially ironic comeing from a woman who makes her living from fear and intimidation.
I don't believe in litigation against anyone just for their words. Because the best weapon against speech is more speech. That's why the only tools I ever use against Meryl Dorey, The Australian Vaccination Network and other distasteful persons or organisation are only words. So while I would never sue anyone for their words if Meryl wishes to engage in actions beyond words, then I see nothing wrong with pursuing civil action for recovery of legal costs to deal with her nonsense in court.
I have no doubt that Meryl Dorey will continue attacking community health, her critics and anyone who tries to benefit the community. Examination of the Australian Vaccination Networks financial records, show that she makes a comfortable living from her dishonest activities. Finance Report